Deep Heart Events
We perform a rehabilitating, educational, and transformative show of music, magic, comedy, theater and dance for those in need, underprivileged, or are suffering in some way. We have worked alongside numerous ONG's, foundations, and governments.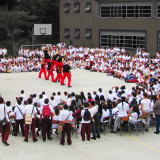 Visiting Orphanages
We visit orphanages in third-world nations to bring toys and gifts, education & love to the children and put on world-class events with clowns and magic, sometimes trips to amusement parks or ice skating, and other activities they would otherwise never experience.
Feeding The Poor
As often as we can, we gather and prepare large amounts of food to distribute to the homeless in downtown areas and those we meet along the way. The time you spend on the streets, the more you realize they are not "homeless people" but just people who are homeless.
Personal Counseling
We maintain contact with hundreds of individuals who reach out to us in many countries through phone calls, emails, text messages, and mailing lists with personal correspondence, counsel, comfort, understanding of the gospel, and strategy to get their lives on track.
Enabling Students
We visit countless high-schools in the worst slums of developing nations. We put on events to reach thousands of students simultaneously and help them understand how to escape drugs & violence, engage their intelligence, develop life skills, and find God's purpose.