DEEP HEART
World Prison Tour
We perform a rehabilitating, educational and transformative show of music, magic, comedy, theater and dance. Through the presentation we create a platform where we can teach, inspire and create a personal connection with those incarcerated to offer an unforgettable, and often, life changing experience. For the past 10 years we have had breakthrough success in touching the lives of thousands of inmates through more than 400 shows in prisons across multiple countries.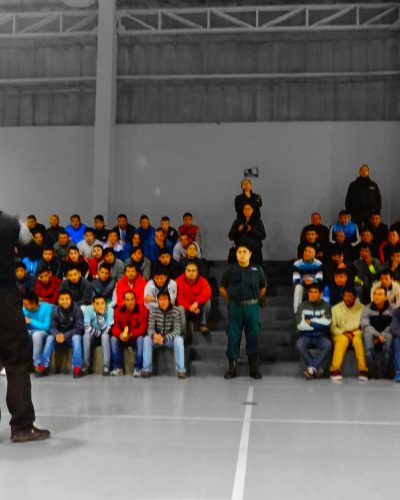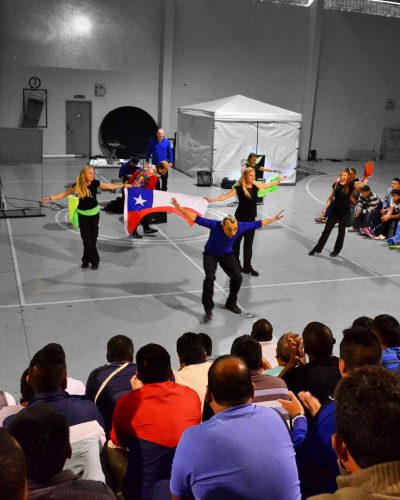 "A marvelous event where the commitment of each member to create a show to the highest standard of excellence and quality was remarkable. The mission of these individuals is more than a social work for the humanization of inmates, it is a vocation that transforms lives from the inside out, therefore, we feel eternally grateful to have worked with them.
The Show
For an hour and forty minutes, using artistic elements of hip-hop, rap, comedy, music, theater, magic tricks, dance choreography and more, we capture the attention of the incarcerated individuals in order to give us a platform to educate and share life experiences; stimulating the minds of the audience, activating their thinking process, and leading them on a path that will help them make better choices both in prison and when they are reinserted into society. Our work is inspired by the love of God the Father and the words of Jesus. The teachings of Christ gave us a paradigm of how man can be redeemed. However, we are not tied to any religion, church, denomination or group. The show is not a religious show. Using a mix of high quality music from multiple genres, we create a unique environment within the prison area that is uplifting, entertaining, and inspiring. We treat the prisoners with warmth, respect, and dignity, which disarms them and creates a comfortable and friendly atmosphere when we begin our show. Because of this unique dynamic, we are able to present to large groups of prisoners at the same time and have done so without any incident whatsoever in more than 225 shows for tens of thousands of inmates for over 10 years.
"…An unforgettable experience... In addition to their grand artistic talent, they are an example of life and a value for humanity."
City Mayor, Armenia, Colombia
"…An unforgettable experience... In addition to their grand artistic talent, they are an example of life and a value for humanity."
City Mayor, Armenia, Colombia
I'm not a spiritual or religious individual but I took so much from your phenomenal performance at our prison here. I was touched by all the thought and effort that you displayed for a group of strangers, convicts, undesirables. I simply wanted to tell you to thank you, and keep being who you are because you touch more lives, for the better, than you know."
"...You bring hope where it is not possible to hope... You transform lives... Today was the best day in my whole time here."
"I want you to know that I've never seen anything like it. I have been with these men for a long time, their sorrow is so deep that it leads many to insanity or worse. This "show" is remarkable. I've never seen them so happy. They really needed to laugh again. It's like you took them from here to someplace beautiful. I can not imagine how hard you should work to do this. The training involved must be overwhelming. "
Regional Prison Coordinator, Southern Brazil
"I have worked here for 30 years and never seen the young men respond to anyone the way they have responded to you. In the rap and hip hop and music and magic..  You are speaking their language..."
Director, Youth Detention Center
"This is not a show. You should not call it a "show" because it is much more than that. What you just did can change someone's life." "
"Ever since you have been here this place hasn't been the same. The message that you shared has significantly impacted the inmates and in turn that has helped our guards and administrators as well."
"At first I wasn't sure what to expect. I was watching you the entire time from afar and now I am left with my mouth on the ground. I can't believe what you have done for us all here".
Prison Director, Paraguay
"I'm sorry, but I'm speechless. I really do not know what to say except that what you do is not ordinary. There is no category for this. That's all I could want for my community. A gift from God ".
City Event Coordinator, Paraguay
Working Really Hard At
Making A Difference
Creating Progress
Of course violence and criminal behavior is considered as the primary issue among the prison population. But to take a step back, it is mental atrophy that is the root cause of violence, as well as despair, mental illness, suicide, and the gang mentality that leads to criminal behavior. It is a mental atrophy that leaves a man with animal instinct. Therefore, we believe that if you can restore a person's intelligence and creativity, help him understand that he was created in the image of God, and revive his intellectual capacity, you can influence his life and actions, thus changing his effect on the prison or community. Our project is for the general prison population and applies to prisoners from all walks of life. It is especially tuned for those who are of the worst conduct, those who do not receive frequent visits and members of gangs.
Using The Science Of Music
Music is scientifically proven to make changes in our brain, improving cognitive functions, and creates a feeling of comfort. Music also fights depression and can offer emotional release. About 90% of all learning is visual and someone is 60% more likely to remember something if it is tied to a visual cue. So, for this reason, we use music and artistic elements that are visually impactful to communicate at a more effective level. Art and culture within prisons have been proven throughout the world as an effective means of rehabilitation and to inspire detainees to choose a better way of life. We have seen that music has the phenomenal ability to connect with hundreds of people at the same time.
Activating The Brain
Albert Einstein said: "Education is not the learning of facts, but the training of the mind to think". Earth's largest supercomputer is the human brain, and every inmate has one. You can think 70,000 or more thoughts a day, faster than the speed of sound, but often an inmates thought process remains dormant. Through our presentation, we work to activate neurological impulses and stimulate new patterns in the brain. Our goal is to begin a thought process that will continue long after we leave and ripple through their lives. If a prisoner can think, be creative, draw, create, exercise, forgive, forget, change, he will feel a greater level of self-esteem because he sees himself as an agent of creativity and achievement. This helps break the cycles of drugs and violence and mental atrophy as they begin to use their intelligence and ability to a greater end.
Experience Pays Off
Having worked extensively in all types of prisons, penitentiaries, jails, youth detention centers, women's sectors, psychiatric prisons and even maximum security facilities, we understand the details of the routines, processes and procedures within correctional facilities. We are familiar and comfortable in any situation that may arise during a prison visit. We are extremely experienced in all safety procedures. We can personally provide multiple both national and international references and contacts of directors, generals and coronels in the military, members of the police, heads of security, volunteers and individuals to you for the verification of our work, if desired.
"…I was in prison, and you came to me…"
-Jesus of Nazareth
(Matthew 25:35)
"The performance was excellent... The three different performances you provided gave the prisoners hope, laughter, inspiration and increased their self-esteem...You are all special people to come and donate your time and talent traveling to provide this positive top- notched program to the prisoners. I believe that you have touched many lives... You were very organized and cooperative with custody. Thank you again and we look forward to your return. "
8 PEOPLE 1 VISION
DEEP HEART
whatwouldyoufightfor@yahoo.com