DEEP HEART
Entertain & Inspire
For over 10 years we have performed in numerous venues in 9 countries. We offer a wide range of entertainment and inspiration. We specialize in world-class magic and dance choreography using an array of electronic music, rock, international, rap, trance and chill. Our show includes elements from around the world of both modern and cultural dances, high energy martial arts demonstrations, comedy, live vocalists and other artistic routines. Through the show, we bring an unforgettable experience for individuals from all walks of life. Our show is educational, and cultural and includes messages of hope in difficult times, family values, forgiveness, love for others, the value of hard work and discipline and the message of the love of God the Father in Jesus. While we have personal catholic roots, we often work with State and Federal institutions, and our show is ecumenical. We are not republicans nor democrats, we do not represent any political viewpoint.
"Allow me to express my most sincere gratitude for the activity that Deep Heart brought to the children, youth, and parents of our organization. Because of your valuable and selfless volunteering, you have created an experience of immense joy and inspiration. Without any doubt I can assert that for many, it was like a dream come true."
The Show
The show lasts between one and two hours and offers a mix of musical performances, AGT style magic routines, comedy, theater, rap, and hip-hop, edm, rock and internationally inspired dance choreographies, intertwining educational ideas, motivational messages and life experiences. We draw from our vast experiences in many different situations and in many countries and cities to adjust our program to the audience that will be present. Whether in an elegant theater or a busling public event we select the acts that best suite the environment. Our goal is to leave the audience laughing, inspired, motivated, loved and always wanting more. In light of the enormous suffering Americans are going through we have decided to use our talents to give back. We consider ourselves common christians, with a catholic background, hoping to lift people through a positive perspective. Our work is inspired by the love of God the Father and the words of Jesus. However, we are not tied to, nor do we promote any particular religion, church, denomination or group. The show is not a religious show. We use a cutting-edge thinking to create a program that is wildly entertaining, hope-generating and life-giving to stimulate people from all walks of life.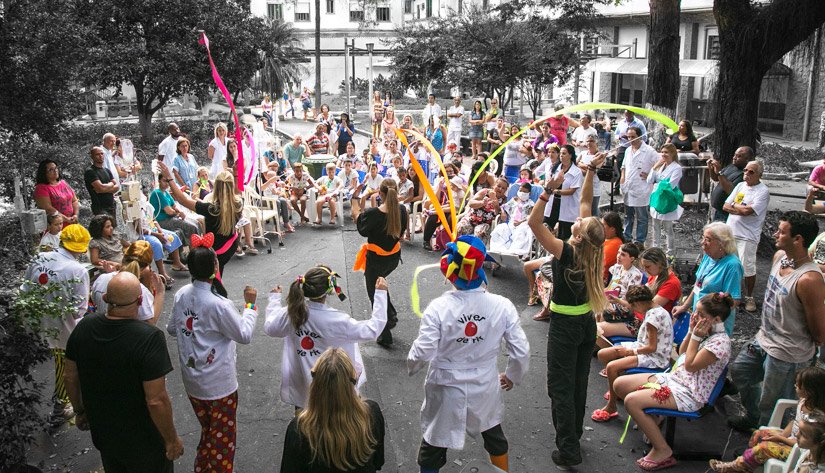 "Dancing, music, hip hop, bubbles, and magic marked this very special Wednesday when the group "Deep Heart" brought laughter and moments of joy to the patience and family members of the Children's Hospital Of Conception.
The group, who is touring our country, has catholic roots but without promoting any religion seeks to share hope, joy, harmony, faith and family values to touch those in need through their therapeutic presentation. "I have never seen anything link this.. I think it so awesome." asserted Taylor Da Silva Nikel, who is a patient at the hospital and got to participate as a volunteer in one of the magic routines. The show captivated, inspired and motivated the patients throughout the afternoon involving all the members of the audience and creating an ambience of harmony...."
Working Really Hard At
Making A Difference
International Culture
From Spanish Flamenco dance, to Irish Step Dance, South Korean Tae Kwon Do, Brazilian Capoeira, Bronx Breakdance, and Argentine Chacarera, we incorporate an international flare in our show. This allows the audience members to experience, if even for a moment, the rich and vibrant cultures of distant countries. Having lived in those countries and even learned the language (the members of our group are fluent in English Spanish, Portuguese and some French), we are able to offer an authentic performance that is entertaining, fun and stimulating. We have traveled to over 50 countries on 5 continents and performed our show for the past 10 years in 9 different countries throughout dozens of cities and towns. We value this tremendous privilege and are excited to share our experiences with others around the globe.
Using The Science Of Music
Art and culture have been proven throughout the world as an effective means of therapy and inspiration for people from all walks of life. We believe that especially within the family unit, creative projects, artistic expression, and music can be a means of development and bonding. "Music expresses that which cannot be said and on which it is impossible to be silent." ― Victor Hugo. Music is scientifically proven to make changes in our brain, improving cognitive functions, and creating a feeling of comfort. Music also fights depression and can offer emotional release. About 90% of all learning is visual and someone is 60% more likely to remember something if it is tied to a visual cue. So, for this reason, we use music and artistic elements that are visually impactful to inspire and motivate others at a more effective level.
Activating The Brain
We believe that many problems stem from a stale mindset. We hope to communicate through our show a creative energy that will inspire others to activate a higher capacity in their thinking and problem solving, especially within the family unit. Albert Einstein said: "Education is not the learning of facts, but the training of the mind to think". Earth's largest supercomputer is the human brain, and every, no matter their social or economic status has one. You can think 70,000 or more thoughts a day, but often we think the same thoughts over and over again. Through our presentation, we work to activate neurological impulses and stimulate new patterns in the brain. Our goal is to begin a thought process that will continue long after we leave and ripple through their lives of the audience.
Experience Pays Off
For more than a decade we have worked extensively in numerous situations and with all types of audiences. In many cities we have worked along side the State Department of Culture, The State Department of Education going into numerous large public schools and performing for the students and teachers. In some cities we have performed during Cultural Events, Hip Hop International in Peru, Large International Foundations, Private foundations, parishes, homeless shelters, hospitals, orphanages, homes for the elderly, prisons, youth centers and more. We even worked with a United Nations Convoy for a time to perform for victims of a wartorn area. This experience has become pivotal in helping us adapt our performance to each specific environment so that whether in an elegant theater with lights and curtains or an earthquake victim encampment (true story) we can offer both quality entertainment and a life-giving inspiration that is appropriate for the situation.
"..They have a plain conviction about their vocation to serve. By means of culture, art, music, dance and magic, they deliver to those watching their qualities and their love with the firm commitment to bring hope and joy to those who need it…"
"Music gives a soul to the universe, wings to the mind, flight to the imagination and life to everything."


8 PEOPLE 1 VISION
DEEP HEART
whatwouldyoufightfor@yahoo.com